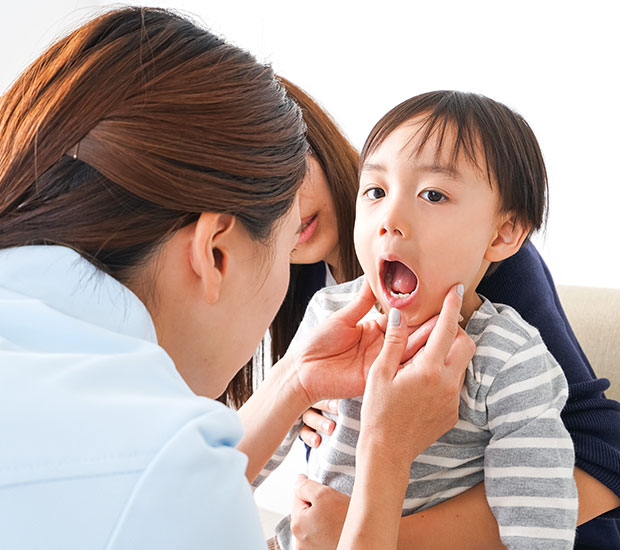 What Should I Do if My Child Chips a Tooth
Asheville, NC
At Dennis R. Campbell, DDS, we are regularly asked, "What should I do if my child chips a tooth?" This is actually a fairly common problem. If you live in the Asheville, NC area, we encourage you to call (828) 417-3828 as soon as your child's tooth becomes chipped. As a general dentist, we can examine and treat it right away.
The first thing we want to do is determine how serious the damage is. In order to do so, we will ask you several questions when you call to schedule an appointment.
Does your child feel any pain?
After chipping a tooth, your child may not be in pain or extremely uncomfortable. The level of pain depends on the extent of the chip, where the tooth was chipped and which tooth was damaged. Some people, for example, lightly chip a tooth when eating something overly hard or crunchy. If it is small, the chip may go unnoticed until your child brushes and flosses his or her teeth. If your child is in pain, you need to call our dental office in Asheville, NC immediately. Pain is the body's way of alerting your child to a problem. We can prevent further damage and infections by restoring the tooth.
Are your child's teeth bleeding?
We encourage you to visit our dentist practice immediately if you notice that your child's tooth has become chipped and is also bleeding. This could be an indication that your child has suffered more dental damage than you are currently aware of. Rinse your child's mouth out with warm salt water and come to our office if the bleeding persists.
Other information we need to know about your child
As a family dentist serving the Asheville, NC area, we treat children of varying ages. We need to know the age of the patient who suffered tooth damage since this will directly influence our treatment recommendations. One treatment method may not be the best treatment option for your child. By knowing the entire story behind the accident and seeking treatment right away, we can make sure your child is properly taken care of. Children tend to be more sensitive to discomfort, so it is wise to have any damage restored on the same day as the accident.
Steps to Take After Chipping a Tooth
If you have ever wondered what to do after your child chips a tooth, this information is good to keep in your back pocket. We always welcome your calls, questions and visits to our dental office in Asheville. This guide may be an informative reference point, but ultimately, your child should still visit the dentist.
Step #1
Rinse your child's mouth with warm saltwater. This will help remove debris, any surface blood and reduce the chance of developing an infection.
Step #2
Place a piece of gauze or a cool rag in your child's mouth and press on the area that is bleeding. Applying light pressure may also help ease any discomfort caused by the tooth being chipped and the dentin being exposed. We have found this to be particularly useful for helping our young patients take their mind off the discomfort.
Step #3
You can purchase dental cement at many drugstores and use it to temporarily cover the damaged tooth. We would prefer to simply treat your child's tooth and restore it immediately. However, if you are traveling, have a busy day at work or simply cannot find the time to come in, this is a useful temporary solution. Just be sure to visit Dennis R. Campbell, DDS, the next day.
Step #4
Call our office at 828-417-3828 and schedule an appointment to be seen right away. We will do our best to work around your schedule so your child can have his or her tooth restored immediately. We provide emergency dental services and have try to keep room in our schedule for last-minute appointments.
We have several ways to restore a chipped tooth, including:
Dental bonding.
We regularly use dental bonding to restore chipped teeth in children. This is the fastest way to do so, since we can complete the process in one visit. We apply tooth-colored bonding material to the damaged tooth, shape and harden it for a natural-looking restoration.
Dental veneers.
A veneer can be used to restore a chipped tooth, cover dark stains, close gaps in between teeth and more. This makes veneers an incredibly popular option among older patients. Veneers are rarely used on children.
If your child has lost a tooth in addition to damaging one, we can use the solutions above to restore the damage and then work on replacing the missing tooth. We can use bonding and other solutions to restore the appearance and functionality of your child's smile.
If your child chips a tooth, the best thing to remember is to call our practice. At Dennis R. Campbell, DDS we always try to treat your child right away so he or she does not experience unnecessary discomfort.
Back to top of What Should I Do if My Child Chips a Tooth
Recent Posts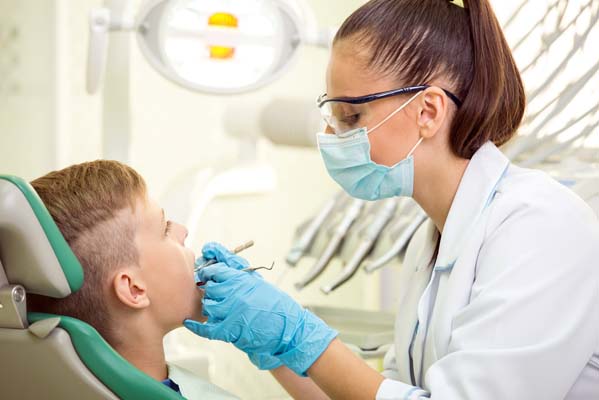 Baby dental crown placement is a common treatment performed in pediatric dentistry. While the word "baby" does imply that they are used for infants, these crowns are actually used for baby or primary teeth, whether in a toddler or child who is anywhere from the ages of four to 10 years old.Outlined below are a…
Explore additional topics covered on our website: